Al Naser Medical Lab Co.

Al Naser Medical laboratory was started in 1974. One of the premier and earlier diagnostic laboratories of Kuwait with a view to cater to the diagnostic needs of the people of the governorate of Farwania but to all sections of society from all over Kuwait.
The lab is located in Farwania (see the map). Though only a few basic simple lab tests were being performed during the early days, now the lab is performing many advanced tests in blood, urine, semen etc on at par with any advanced diagnostic laboratory in Kuwait.
The following investigations are carried out almost everyday by qualified well-experienced staff duly licensed by MOH, Kuwait.
Clinical microscopy for urine routine analysis, stool analysis for parasites, vaginal swabs etc.

Blood and urine test for pregnancy, which is useful for the earliest detection of pregnancy.

Fever detection tests like brucellosis (Typhoid test), Helicobacter pylori for stomach ulcer.

Totally automated blood counts like WBC, RBC, Hemoglobin, blood indices, platelets etc.

Biochemistry test like blood sugar, cholesterol, iron, lipid profile, liver LFT,RFT & GT and advanced tests on prior requests.

Hormones such as PRC, PRG, TFT, male infertility, female infertility hormones, Ferritin, prostate specific analyses etc are done by hormone specialists.

Microbiology- all cultures can be done for urine, semen, stool, vaginal swab, pus etc.

Serology tests like VDRL, RPR for sexually transmitted diseases, and tests for Rheumatism. Blood group tests are performed daily for the purpose of driving license, Civil ID, Residency.

Food Intolerance tests to find out which of the usually consumed foods are causing problems and which do not.

As per MOH stipulation, very good (highest grade) QC programs both internal and external are carried out and health ministry officials who periodically and regularly pay visits to our lab certify our quality and verify the same. Al Naser lab is now a popular name despite the presence of many labs nowadays which have recently come up. Prominent and main aspects of our services is the painless blood collection technique by the staff which is a fact acknowledged by the public.



Lab is open from 8am to 1pm
&
4pm to 9pm
Phone no. 4733295
Fax. 4726967
Location: First floor, Al Hashemiya complex Next to Govt. Boys School Farwania Main Road in the vicinity of Crowne Plaza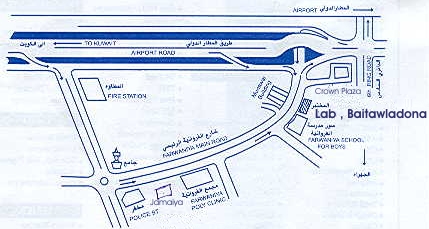 + Message Bar +


updated on 22/02/2006




Imageinus.com